Emirates Salon Culinaire announces winners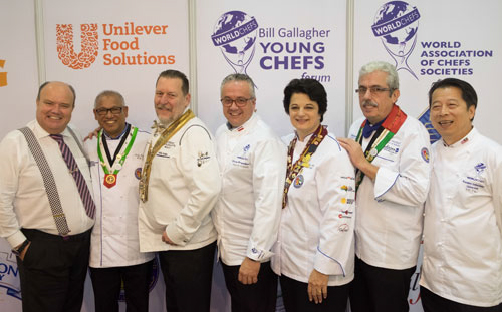 (L to R): Andy Cuthbert, Worldchefs Continental Director, Africa and Middle East; Tony Fernandes, executive chef/ f&b director, Crowne Plaza Toronto Airport and CCFCC Toronto culinary chairman; Thomas Gugler, Worldchefs president; Martin Kobald, Worldchefs vicepresident; Cornelia Volino, CCFCC Toronto chairman; Uwe Micheel, Worldchefs assistant VP; KK Yau, Worldchefs special advisor to Asia.
DUBAI, UAE — This year's edition of the Emirates Salon Culinaire (ESC) declared winners in a wide range of gastronomic categories at the competition held Feb. 26 to March 2, at the Dubai World Trade Centre, during Gulfood.
The competition saw over 1,250 competitors from the United Arab Emirates, Maldives, Russia, South Korea and Bahrain compete in 29 classes across all disciplines of the culinary arts, ranging from ice carving, practical cookery, static displays and Emirati cuisine, to cake decorating and showpiece categories.
This year, 26 international judges, alongside 12 UAEbased judges, presided.
"The standards were very high," said Tony Fernandes, executive chef and food and beverage manager at Crowne Plaza Toronto Airport. One of two Canadian judges at the competition, Fernandes judged the beef, live cooking category.
The ESC is the largest culinary competition in the Africa and Middle East region and is endorsed by the World Association of Chefs Societies. A total of 86 Gold Medals, 161 Silver Medals and 280 Bronze medals were awarded during the five-day event.
Winners included: Best Effort by an Individual Establishment — Dubai World Trade Center; Best Effort by a Corporation — Jumeirah Group; Best Cuisinier — Dubai International Hotel; and Best Kitchen Artist — Jumeirah Burj Al Arab.
Dowload Pdf