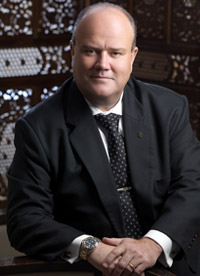 Dear all!

The year 2023 holds great significance in the history of the Guild.
It marks the retirement of our long-standing president, Chef Uwe who has stepped down from the guild after an impressive 26 years. Chef Uwe was at the helm, leading the Emirates Culinary Guild from strength to strength under his guidance and leadership. It is a significant change for all of us in the guild, and even more difficult to fathom not having our 'Chef Uwe' in the country with us. Chef Uwe was instrumental in establishing the guild as one of the top players in the WorldChefs Association and also among the respected culinary institutions around the world. We have seen our guild grow and our chefs have traveled the globe, bringing home gold medals, and our prestigious Salon Culinaire has grown into one of the most sought-after competitions in the region.
At this moment, we must also acknowledge the invaluable contributions of Annette, Chef Uwe's better half, who has supported him and been an integral part of the guild as much as he has. We will deeply miss her presence at our meetings and gatherings. As Chef Uwe and Annette embark on a well-deserved retirement, we extend our warmest wishes for a peaceful future. The chefs of the UAE will always welcome them back to their second home in Dubai. Chef Uwe will remain on our board as the Past President of the Guild, and he will serve as a steadfast supporter in one way or another.
With this transition, the new board, composed of both long-serving board members and fresh faces, gains the momentum to forge ahead. This dynamic blend will strengthen our foundation. Additionally, the formation of multiple committees within the Guild will allow us to share the workload and benefit all chefs in the UAE by providing a platform to continue to drive the guild forward in the future. These committees consist of seasoned professionals from diverse backgrounds and culinary establishments, and we look forward to introducing them in upcoming magazine features.
Several committees have been established to lead different disciplines within the Guild. They will reach out to our members and corporate partners for support and involvement in the Guild's activities. Our key focus is still on nurturing our young chefs with a dedicated committee for diversity, and inclusion playing a pivotal role in shaping the Guild's future. Expert chefs who have excelled in competitions and brought home gold medals will lead committees focused on baking, pastry, and other areas to forge stronger skills and guide future competitors on how to succeed within the competition circuit. The re-establishment of our senior teams and young chef culinary teams will be another key focus for the board.
Competitions serve as vital learning platforms for our chefs. The International Emirates Salon Culiniare, a part of ExpoCulinaire, will return to the Expo Center in Sharjah from May 20–22, 2024. We are excited to introduce new categories in the salon that will further develop the skills of our chefs. In this era of convenience and technology, it is crucial to impart essential knowledge, and for this, the guild's commitment is stronger than ever. The salon will evolve and become relevant for all chefs, cooks, pastry chefs, and bakers through knowledge of the basics coupled with innovation and new techniques.
In February 2024, we will be sending a team of pastry and artist masters to compete in the Culinary Olympics in Germany. A team of 24 chefs will represent the UAE, and we have full confidence in their abilities and anticipate their success in winning gold once again.
In conclusion, I am humbled to have been elected president of the Emirates Culinary Guild by our esteemed members, following 26 years as chairman. I cherish this position and vow to continue the great work we have collectively accomplished during the Guild's 32-year existence. In the next issue, I will provide further updates on our plans for the next 18 months and share some exciting highlights. Once again, thank you to Chef Uwe for his outstanding contributions and all you have done, and I wish you all a wonderful year ahead in 2023.

Andy Cuthbert
President and Editor