Successful Participation In Milan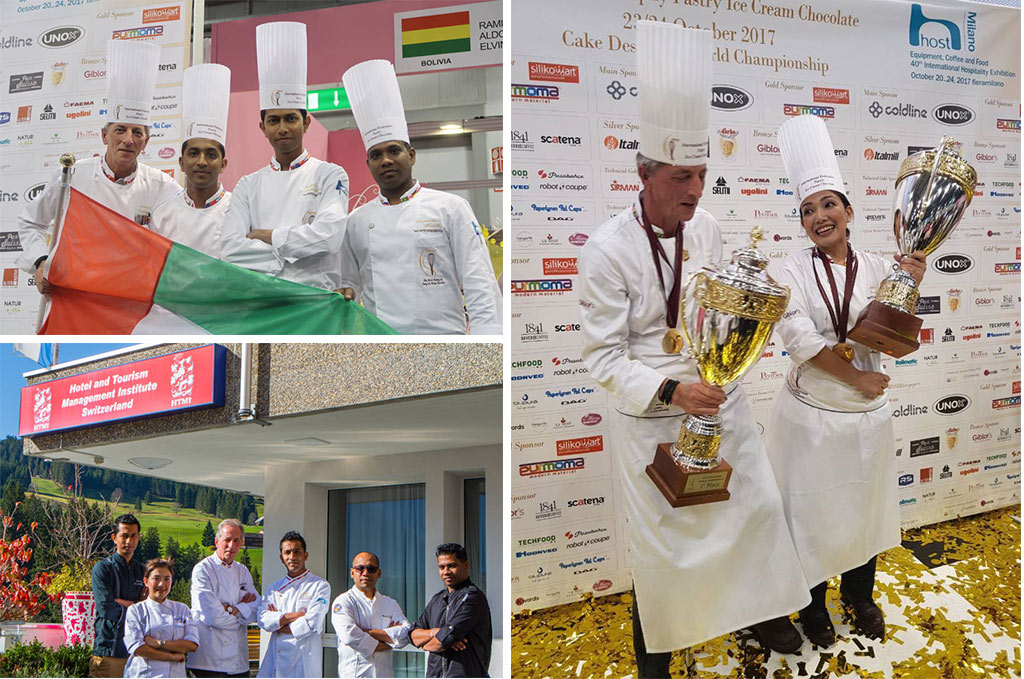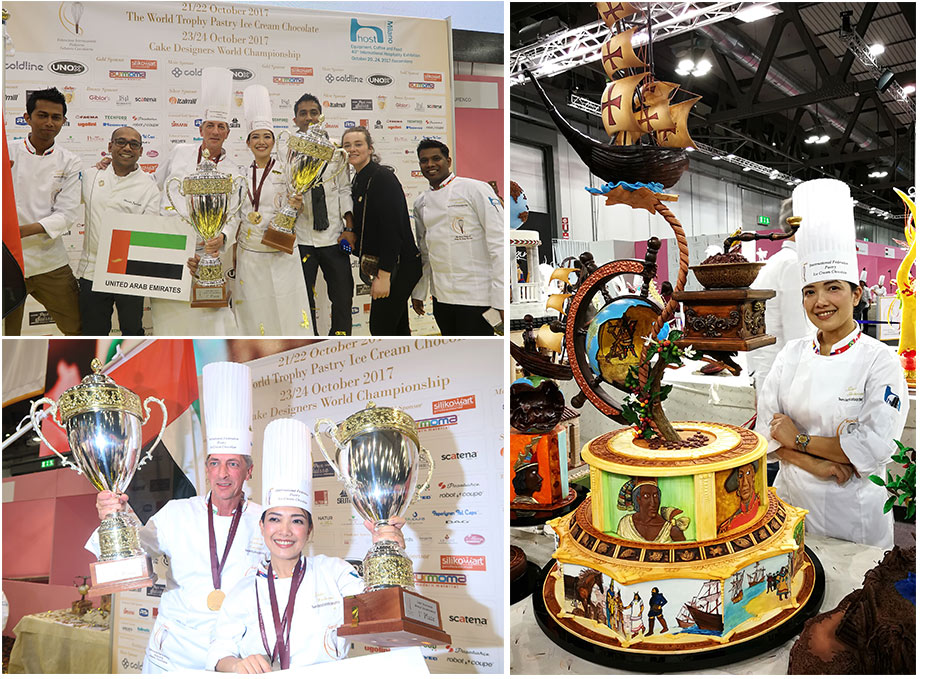 Dubai October 2017

The Emirates Culinary Guild would like to announce the successful participation In Milan at the recently held World Trophy Pastry Ice cream Chocolate Championship FIPGC 2017 and the Cake Designers World Championship. The competition was held at Fierro Milano during Host exhibition. The competition saw over 20 different countries compete for the trophies in both categories.

The Emirates Culinary Guild had a team of 4 chefs from Dubai competitor in the competition.

The team consisted of the following Pastry chefs and cake Artist:
The World Trophy Pastry Ice cream Chocolate FIPGC 2017 team was represented by:
Achala Weerasinghe Executive Pastry chef of Madinat Jumeirah Dubai
Kapila Amaratunga Executive Pastry chef Sheraton Dubai
Dammika Herath Executive Pastry Chef Radisson Blu Deira Creek Dubai

The Cake Designers World Championship team represented by:
Ms. Jade Saducas Cake Artist from Madinat Jumeirah Dubai

The team was supported by Chef Andreas Kurfürst who was the teams judge and mentor from Hotel and Tourism Management Institute Switzerland HTMi and also Chef Chamila Arachchige Executive Kitchen Artist from Atlantis the Palm, without who's support we would not have been able to be successful

The ECG is delighted to announce that Ms. Jade Saducas, was crowned champion and Gold Medal winner and overall trophy winner for the Cake Designers. Chef Jade produced an outstanding cake and artistic pieces to be awarded the Trophy. Chef Jade worked for months on her piece and with the support of the team has brought home the Gold to the UAE.

The Pastry team also had to produce three show pieces which included Chocolate, Sugar and Pastiliage, and in addition ice cream, a cake and pralines were all produced in the 8 hour time limit set for the competition.
Chef Andreas Kurfürst said "the competition was tough with some great pieces produced by the other competitors however chefs Jade's piece was truly outstanding" The president of the Guild Uwe Micheel Director Kitchens Radisson Blu Deira Creek, who was also at the competition as an observer stated" it is a great achievement for our team of Pasty Chefs and Artists to compete internationally and this exposure gives them such great experience"
"2018 will be an exciting year ahead for the Emirates Culinary Guild with the National Teams both Senior and Young Chefs going to compete in Singapore and to the Culinary World Cup in Luxembourg and we are proud of this teams efforts as this is the second time we participated in the competition in Milan"added Guild Chairman Andy Cuthbert General Manager Jumeirah Mina A Salam Hotel

End

About the Emirates Culinary Guild
The Emirates Culinary Guild (ECG) (www.emiratesculinaryguild.net) is the association of professional chefs of the UAE. It is a non-profit-making organisation, organised by volunteers dedicated solely to the advancement of culinary art in the UAE.

The World Association of Chefs Societies (Worldchefs) (www.worldchefs.org) is the 105-nation fellowship of the world's various professional chefs' organizations.

The ECG received its charter into Worldchefs at a ceremony in Stavanger, Norway on June 28, 1994, during the Worldchefs 26th World Congress. Worldchefs endorses the ECG as the authorized professional culinary association for the UAE. The ECG, thereby, has an international culinary focus and multi-national support for the staging of its various competitions, seminars and events.

The aims of the ECG, broadly, are:
To encourage and inspire young chefs through training and competition.
To enhance internationally the culinary prestige of the UAE.
To encourage UAE nationals to consider a career in the hospitality industry.
With Culinary Regards,
Uwe Micheel
Guild President
Director of Kitchens
Radisson Blu Hotel, Deira Creek