International Chefs Day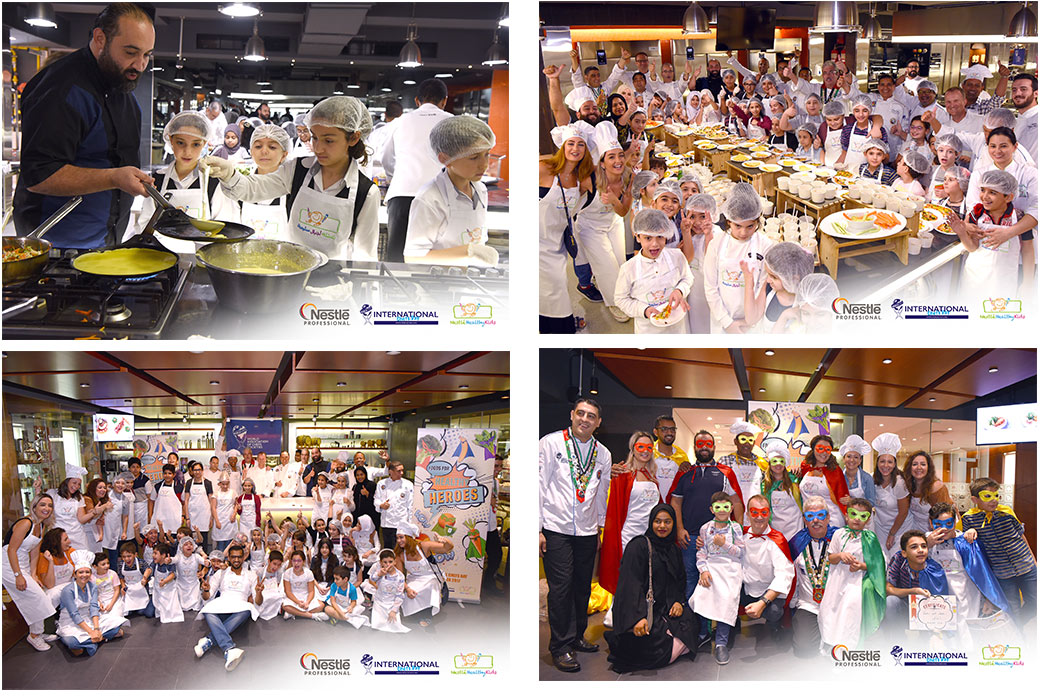 Nestlé Middle East's "Foods for Healthy Heroes" Encourages
Healthy Eating Among Children
on International Chefs Day
Dubai, 24 October 2017:
Under the theme "Foods for Healthy Heroes," chefs from the Emirates Culinary Guild and Nestlé Middle East celebrated International Chefs Day at the International Centre for Culinary Arts (ICCA) by holding cookery workshops for
children from Red Crescent Dubai and the Dubai National School in Barsha, teaching them how to create their own edible "Healthy Heroes."
The initiative was part of global International Chefs Day celebrations conducted jointly between
Nestlé and
the World Association of Chefs' Societies (Worldchefs), aimed at encouraging healthy eating among children.
"We believe that good eating habits should be embedded during childhood, and that cooking should be part of the educational process," said Roger Frei, Business Executive Officer at Nestlé Professional Middle East.
"Nestlé for Healthier Kids forms part of our commitment to Promote Healthy Diets and Lifestyles," added Frei. "The initiative federates all of our efforts to support parents and caregivers on their journey to raise healthier kids. From leading research to product formulation, from education to innovative nutrition and lifestyle services, from individual actions to engaging partnerships, our ambition is to help 50 million children lead healthier lives by 2030."
To promote healthy eating and a balanced diet beyond the workshops, participating children are also receiving recipe cards to take home and use to prepare meals with their families.
The Emirates Culinary Guild (ECG)
in Dubai is the UAE's association of professional chefs; a non-profit organization dedicated solely to the advancement of the culinary arts of the UAE.
About Nestlé Professional
Nestlé Professional
is dedicated to delivering creative, branded food and beverage solutions that enable foodservice operators to delight consumers. From innovative beverage systems under the Nescaféand Coffee-Matebrands, to on-trend culinary items fromMaggi, Chef, NestléDocello, Nestlé Professional meets the needs of foodservice operators while satisfying the tastes of the out-of-home consumer. For foodservice product news and information, visit nestleprofessional.com, or contact Nestlé Professional Middle East by visiting
www.nestle-family.com
.
The International Centre for Culinary Arts (
ICCA)
provides its students with a truly world class culinary experience, and is featured amongst the top 10 culinary institutes of the world. It's received the "Recognition of Quality Culinary Education" award from the World Association of Chefs Societies (WACS), and is committed to providing opportunities for students to realize their dreams through a quality educative environment.